See also: Zombie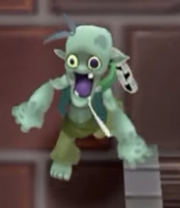 The Zombie, also known as Pirate, is an enemy in both Final Fantasy Adventure and its remake Adventures of Mana.
Final Fantasy Adventure
[
]
EXP: 15
GP: 6
Drops : Ether, Wisdom Stone
Weaknesses : Damaged by magic, weapons with special properties (Silver Sword, Thunder Spear, etc.) or the Morning Star
Location: Kett's Dungeon, Kett, Glaive Castle
Attack patterns: ?
Adventures of Mana
[
]