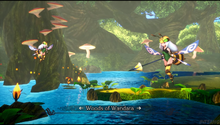 The Woods of Wandara (called the Forest of Wonder in the fan translation) is a field in Trials of Mana. Mispolm, the Benevodon of Wood, is sealed in this dense forest full of poison marshes. Like the Shimmering Ruins and the Gem Valley Daria, it is inaccessible without the Flammie Drum.
As adapted in the 2020 version, the Woods of Wandara are home to Mario-style platforming paths.
Community content is available under
CC-BY-SA
unless otherwise noted.