Wall Face has two variants: Wall Face and Doom's Wall.
Wall Face
Edit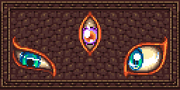 Statistics
Edit
It should be suggested to have your characters at or above level 13 for this boss. You should also level BOTH Undine and Gnome magic to level 2 for both Primm and Popoi...especially Popoi's. Level 2 Earth Slide will wreck this boss.
You may have noticed the spikes on the wall below. Well, if you kill the two side eyes first, Wall Face will begin to move your party toward the spikes in an attempt to crush them - if they are crushed, it is game over. Wall Face likes Undine magic for some reason, and will constantly cast Freeze and/or Energy Absorb on a team member - keep them healthy by having Primm cast level 2 Cure Water. Keep Randi attacking as usual, and Popoi casting level 2 Earth Slide on the center eye. This will do loads of damage to it, and will kill it very shortly.
Doom's Wall
Edit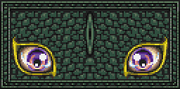 Statistics
Edit
Have your party at or above level 30 for this fight, and make sure every spell you have is at level 4, especially Cure Water, and Popoi's spells. All weapons should be upgraded and practiced with until they reach level 4 as well...although if you'd like, once you get the Bow and Spear and Sword orbs located in the ruins, have Watts forge them to level 5, and work with them until they reach level 5 for the extra damage. Make sure you have all the best armor from Northtown as well.
Doom's Wall is similar to Wall Face, only beefier, and with more powerful spells, say level 5. That is nothing compared to what you faced back in the Fire Palace. Doom's Wall likes to toss Thunderbolts at you, so keep your HP up using Primm's level 4 Cure Water spell. This boss is actually weak against light magic, but you have none, so you'll have to attack it with spells of a different element. It doesn't matter which one, as Doom's Wall will take normal damage from all of them. If Doom's Wall is alone, it'll start causing Cave-Ins, which can do some damage.
Community content is available under
CC-BY-SA
unless otherwise noted.