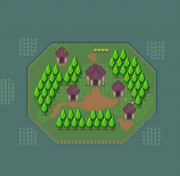 Turtle Shell Isle is a region in Secret of Mana. It is a small island in the western part of the world, situated between Kakkara in the north and Tasnica in the south.
As its name implies, Turtle Shell Isle is the shell of a giant sea turtle, whose head and flippers are faintly visible under the surface of the ocean. It supports a small community of people who live in huts and enjoy the quiet and simplicity of island life. The local merchant will give the party a sea hare's tail if they talk to him, which can be used to restore the oasis in Kakkara.
Community content is available under
CC-BY-SA
unless otherwise noted.