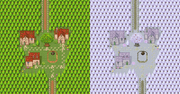 The Tropics is a location in the Ice Country in Secret of Mana. It is an unseasonably warm and green resort town created by the Scorpion Army, who trap the Mana Spirit Salamando in a stove to harness his heat.
As Randi, Primm, and Popoi pass through the Tropics, a minion who doesn't recognize them asks them to watch the stove and whack it if it cools down. They hear banging sounds from inside the stove, and can set Salamando free by opening it. Doing so causes the Tropics to freeze over, the visitors to abandon the town, and the Scorpion Boss to berate her minions for their stupidity. To show his thanks to the party, Salamando teaches Primm and Popoi some new spells.
Although the Tropics is technically considered a town, it doesn't have an inn or a shop.
Community content is available under
CC-BY-SA
unless otherwise noted.