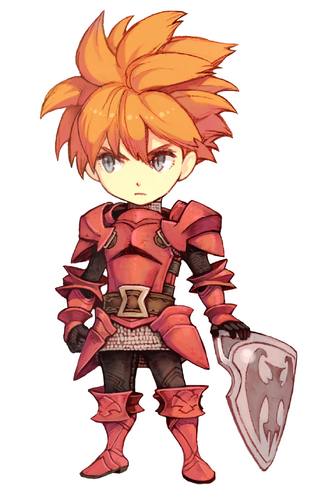 The Hero (also known as the Boy, Sumo in Final Fantasy Adventure manual and Adventures of Mana, or Duke in the novel, manga adaptations and Circle of Mana) is one of the two central co-protagonists of Sword of Mana.
Childhood
Edit
Born and raised in Granz Realm, the Hero had a happy childhood in which he was well provided for both financially, being the son of Consul Hermann, and spiritually, listening to the legends of the world as spun in song by Lord Granz. However, one dark day, his parents were accosted by Prince Stroud, who had taken on the moniker of "Dark Lord", for hiding the (supposed) sole survivor of his massacre of the Mana Village. While his parents stayed behind to try and reason with Dark Lord (a tactic that resulted in their deaths), the Hero fled alongside the girl. Unfortunately, he twisted his ankle and, telling the Heroine to run ahead, was eventually captured and thrown into the dungeons of Granz Castle. There, he was forced to become a gladiator-slave for the Realm, battling monsters daily just to stay alive.
When playing the story from the Heroine's perspective, the Hero joins her as a partner character. In battle, he comes equipped with a sword and Salamander magic. However, due to always having a sword equipped, the Hero's magical abilities are rather lacking. He joins six times throughout the game:
The Sword of Mana version of the hero is remarkably similar in design to Escad from Legend of Mana.
Circle of Mana
Edit
Rank
Image
Classes
Quote
LGR
奴隷剣士
復讐者
聖剣の英雄
過酷な運命を背負う者
「また、この夢だ。ああ、俺にこの夢を見せないでくれ!」