Richard is a NPC in both Heroes of Mana and Trials of Mana.
In Heroes of Mana
[
]
Richard is the Prince and "Silver Knight" of Valsena. He is close friends with Loki and quite protective of Valda. He joins the battlefield several times, but always as an AI controlled unit that supports but can not be influenced by the player. Unfortunately his parents are killed during the initial invasion of Valsena and he is forced to feel.
In Trials of Mana
[
]

Richard is the current King of Valsena. In the past, when he was still a prince, he traveled the world with Loki and slew dragons together with him, ultimately facing the Dragon Lord. A faerie was with them both during their fierce battle. Loki took a blow that was meant for him, causing both him and the Dragon Lord to fall into the abyss below. Richard and his men searched for weeks but were unable to locate Loki. In the present, he is proudly served by his disappeared friend's son Duran, who outshone the other knights of Valsena and came into service to him. After the Crimson Wizard attacks Valsena Castle and the knights report about said attack, he plans a strategy to strengthen the castle guard and send their own spy to Altenish territory.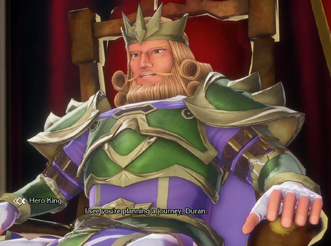 The next day, Duran goes to see Richard and discusses his plans to go on an adventure to become strong enough to defeat the Crimson Wizard as revenge for humiliating him and insulting his king. He gives Duran his blessing and is thanked by him for it before he sets off, and he proudly comments that he, instead of having been raised too proud like he feared, has become just like his father at his age.
Later, the heroes arrive at Valsena while it is under attack by Altenish forces. They hurry to the throne room just in time to save Richard from the Crimson Wizard. Having realized that Faerie is with them, Richard acknowledges that the world is in danger again and from that point, he becomes one of their guides to locating the Mana Spirits, starting with suggesting that they go visit Laurent to find Jinn next. He also tells them about Vuscav after they return to Valsena from Beuca.
In Duran's ending, Richard congratulates him and his friends on their success in their difficult journey. He acknowledges that Mana has disappeared due to the Mana Tree's destruction, and he invites them to join the ranks of Valsena as Golden Knights, an offer that Duran and his companions accept.
Circle of Mana
[
]
Richard
[
]
Rank
Image
Classes
Quote
UR
Fighter
Gladiator
Swordmaster
Duelist
「大丈夫だよ。あいつらなら、きっとやってくれる。何故か、そう感じるんだ。」
SUR
Fighter
Knight
Paladin
Ruling Knight
「お愛想はやめてくれ。背中がかゆくなる。」
LGR
Fighter
Gladiator
Swordmaster
Duelist
「知らんな、幾らロキに似た声をし、似た構えをとろうとも12年前、竜帝との戦いでロキは死んだ。」
Hero King
[
]
Rank
Image
Classes
Quote
UR
Fighter
Knight
Paladin
Ruling Knight
「我々は己の力で未来を創っていかなければならない。若き黄金の騎士達よ!お前たちがフォルセナと世界の未来を導くのだ!」
SSUR
Fighter
Gladiator
Swordmaster
Duelist
「ははは…。マナの女神の命で、勇者に無茶ぶりをするのが、フェアリーの役目ではないのか?」
Nomenclature
[
]
Prince Richard
[
]
Names in Other Regions
Language
Name
Meaning
Japanese
リチャード (Richādo)
Richard
Chinese
French
Prince Richard
German
Prinz Richard
Korean
Spanish
Príncipe Ricardo
Hero King Richard
[
]
Names in Other Regions
Language
Name
Meaning
Japanese
英雄王リチャード (Eiyūō Richādo)
Richard, King of Heroes
Chinese
French
Roi héroïque Richard
Heroic King Richard
German
Heldenkönig Richard
Hero King Richard
Korean
Spanish
Rey insigne Ricardo
Distinguished King Richard