Pokiehl (ポキール Pokīru) is a character from Legend of Mana. One of Seven Wisdoms existing in the world of Fa'Diel, Pokiehl is also known as the Poet of Truth. He is revered as a hero of ages past, where he was known as the "Messenger of the Cosmic Truth".
Pokiehl reappears in Sword of Mana as the second wisdom that can be acquired by players. He functions as the Wisdom of fire in this game.
Profile
Personality
In-Game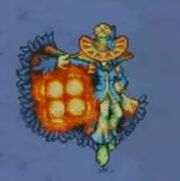 Method: Log 10 Amigos.
Buy: N/A
Sell: N/A
Use: Summon the Wisdom Pokiehl. Can be used once a day. Pokiehl attacks with a blaze of Fire, inflicting FireMan on enemies it does not kill.
Gallery
Community content is available under
CC-BY-SA
unless otherwise noted.