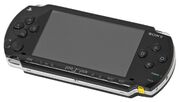 The PlayStation Portable (officially abbreviated as PSP) was a handheld game console released and manufactured by Sony Interactive Entertainment. Its development was first announced during E³ 2003, and it was officially unveiled at a Sony press conference before E³ 2004. The system was released in late 2004. The PlayStation Portable had the ability to play video games, watch videos, listen to music, and view images. The PSP was also one of the first wireless handheld systems, bearing an inbuilt Wi-Fi adapter that permitted Internet browsing as well as wireless local play for select games and use as a "second screen" for the PlayStation 3. Since the PSP was an Internet-enabled device, users could purchase and play original PlayStation games from the PlayStation Network on the PSP.. The handheld system and many of its associated services were discontinued worldwide in 2014. The PSP was succeeded by the PlayStation Vita, with which its downloadable games are compatible.
Device-based PSN services for this system were discontinued in the United States as of March 31, 2016.[1] Even so, it is still possible to sideload games from the PlayStation Store website (Microsoft Windows systems only), or by using a PS3 in conjunction with the PlayStation Store applet on the console.
PlayStation Portable hardware underwent as many as four major revisions, each improving in terms of hardware, memory capacity, and firmware capabilities over the unit before it and also decreasing overall size and weight. The final mainline model, the PSP-3000 series, was the slimmest. It allowed for direct output to a standard TV screen via cable link, also adding extra UMD cache memory for quicker load times, a brighter screen and an internal microphone that previous revisions lacked.
The fourth model, PSP-N1000, dubbed PSPgo, eschewed the original series' UMD drives in favor of a digital-only distribution model. This model had 16 GB of internal flash memory with support for up to 32 GB M2 cards as external storage.
No title in the series was released natively for this console. The following titles were repackaged on PSN:
Community content is available under
CC-BY-SA
unless otherwise noted.