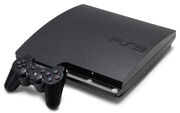 The PlayStation 3, abbreviated as PS3, is a seventh-generation video game console created by Sony. It was released in November 2006 in Japan, the United States, Canada, Hong Kong, and Taiwan. The European release, however, was delayed until March 2007. All models are compatible with original PlayStation games; and certain early models are also compatible with PlayStation 2 games (see below). It was the first console with access to the PlayStation Network.
As of May 29, 2017, the console is no longer being produced, and has been formally discontinued in New Zealand. North America, and Japan.[1] It is succeeded by the PlayStation 4 in all territories.
Hardware revisions
[
]
The initial models of the PlayStation 3 released in 2006 (retroactively referred to in the gaming community as the "fat" or "Spider-Man" models) were not well-received due to high price points, low storage, and limited third-party game support. Nonetheless, these models were perhaps the most complete in the series, as they included PlayStation 2 support through their discontinuation in late 2007. The first two North American models (CECHA and CECHB) included the PS2's main processors on the motherboard itself to achieve complete backward compatibility. The next two models, the European CECHC and the North American CECHE, removed the PS2 main CPU and transferred its roles to software emulation. By late 2007, all PS2 compatibility was dropped.
On September 1, 2009, the "slim" model of PlayStation 3 was released. The PS3 Slim was 32% smaller than the original and consumed 34% less power. In 2010, Sony silently launched new revisions of the Slim console (CECH-210x) featuring both a smaller CPU and a smaller GPU than original models, which led to another 22% reduction in power consumption, lower heat output, noise reduction and 7-ounce (200g) weight reduction. CECH-210x consoles started to appear in Japan in March, in North America in May, and in Europe in June.
In mid-2012, a third "superslim" model (CECH-4xxx) was launched worldwide, slashing the power requirements by 15-20% versus the 2009 models and further reducing the size and weight of the console itself. It also replaced the automatic slot-load disc mechanism with a fixed manual-open tray. The base model included an integrated 12 GB solid-state drive (SSD).
Mana titles for PlayStation 3

[

]
No title in the series was released natively for this console. The following titles were repackaged on PSN:
References
[
]