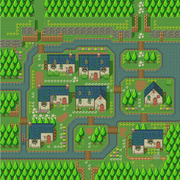 Pandora is a town in Secret of Mana. It is Primm's hometown.
Pandora is located near Gaia's Navel in the southern part of the world, to the south of Potos Village and the east of Kippo Village. It can be reached on foot, via Cannon Travel Center, or by riding Flammie.
Pandora is the capital of the Kingdom of Pandora and the home of the royal palace, where the king and queen reside. In the nearby Pandora Ruins, the party must confront an evil being who is draining the energy of the townsfolk.
Community content is available under
CC-BY-SA
unless otherwise noted.