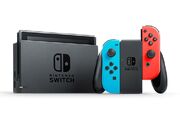 The Nintendo Switch, known in development as the Nintendo NX, is a gaming device from Nintendo, released March 3, 2017. While technically a portable device, it does not currently serve to replace the Nintendo 3DS but succeeds the Wii U.
Description
[
]
An enhanced eighth-generation device, the Switch is a multimode tablet with an HDTV dock and two Joy-Con controller units that can adapt to any gaming environment. When snapped into the included frame, the Joy-Cons form a gamepad; and when attached to the Switch, they form a handheld. They can also be used independently when the tablet is in a free-standing position.
When docked, the Switch operates as a typical set-top unit, and can output to a television screen via HDMI in full 1080p resolution.
Games for the Switch are distributed on Nintendo Switch cards, a departure from the previous three generations' use of optical storage, as well as via digital distribution with a Nintendo eShop, The company's Virtual Console services of the last two generations are not yet available to Switch owners, as confirmed by gaming e-zines such as Kotaku[1] and Polygon.[2]
The Switch also possesses 32GB of onboard flash storage for both games and user data, with a microSD slot for expansion up to 2TB.
Mana titles for Nintendo Switch

[

]
References
[
]