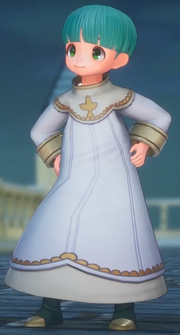 Mik is a non-player character in Trials of Mana. An acolyte of the Temple of Light in Wendel, he is one of Charlotte's friends.
Story
[
]
Opening - Charlotte
[
]
Charlotte rushes out of the Temple to follow Heath, but is promptly rebuffed by the guards. Desperate for another way out, she turns to Mik in the second-floor mess hall. Mik has his doubts, seeing as how he may get into trouble for helping her. Nonetheless, Charlotte pressures him to go along with her plan. Mik complies, agreeing to meet her by evening.
Charlotte takes a snooze, then meets Mik on the second-floor balcony, where he has snuck a springstepper past the guard. The creature, however, goes berserk and launches her into the Rabite Forest, where a passing adventurer breaks her fall and takes her to Astoria. As Charlotte wakes on the morrow, she declares that Mik is "toast when [she] get[s] back". Meanwhile, Mik is beside himself over the mishap. It is not known what, if anything, happens to him as the heroes receive their charge from the Priest of Light.
Mik can later be found in Chapter I onwards on the last floor of the Temple of Light and can grant Charlotte the Alleviate Chain Ability.
Spoiler ends here.
Other appearances
[
]
Circle of Mana
[
]
Rank
Image
Classes
Quote
R
Cleric
Priest
Bishop
Sage
「…じゃあ今夜、とっておきのヒミツの方法を試してみましょう!コレをつかえば、おとなたちにみつからずにアストリアまであっというまに、いけるハズですよ!」
SR
Cleric
Enchanter
Necromancer
Shamanion
「ジャーン!コレは、『バネクジャコ』といってですねえ、ちょースゲージャンプができるんですよー!!どこで、手に入れたかは、ヒ・ミ・ツ!」
SUR
Cleric
Priest
Bishop
Sage
「うぅ、おいらなんでこんな目に……。」
SUR
Cleric
Priest
Bishop
Sage
「さぁ、それがオイラにも。光の司祭様の居所をシャルロットさんが探していて……」