For the landmark as it exists in Sword of Mana, see Marsh Cave (Sword of Mana).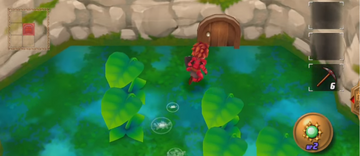 The Marsh Cellar (originally Marsh Cave) is a dungeon in Final Fantasy Adventure and its remake Adventures of Mana.
Story
[
]
A patron in Kett Manor who is also a collector of rare artifacts tells Sumo of the Moon Mirror, said to reveal the truth. Count Lee has sealed the mirror with a Silver Key, placed under the watch of aggressive lizardmen, Sumo defeats a pack of the creatures in the midst of the swamps near the cave and takes up the key.
As he descends into the darkness, Sumo encounters a mysterious traveler also searching for the mirror, who then accompanies him. Deeper still, Sumo locates a Sickle to hack through heavy marsh weeds. As the pair approach an underground lake, the Hydra attacks from within the lake and is dispatched in the ensuing battle, releasing the mirror from its grasp as well as the Book of Fire.
Sublocations
[
]
Marsh Cellar B1
Marsh Cellar Western Cliffs
Marsh Cellar B2
Marsh Cellar Eastern Cliffs
Marsh Cellar Bog (Boss Lair)
Enemies
[
]
Treasures & Items
[
]
Sickle -- In a sealed room in Marsh Cellar B2.
Iron Shield -- In a trap room rigged with Ropers in Marsh Cellar B2. Defeat the monster to make the chest appear.
Book of Fire -- In a chest after defeating the Hydra.
Moon Mirror -- In a chest after defeating the Hydra.