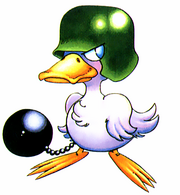 Mad Mallard, also known as Duck Soldier or Duck GI, is a recurring enemy in the Mana series.
The Mad Mallard is a semi-anthropomorphic white-feathered duck. It wears a forest-green old-fashioned army soldier helmet (the allusion to which is also found in the latter half of its Japanese name), and wields a simple black metal flail. While it can use the flail at close range, the Mad Mallard can also attack from a distance with its arsenal of pumpkin bombs, The yellow variant from Secret of Mana is called Captain Duck.
Main article: Mad Mallard (Secret of Mana)


Main article: Mad Mallard (Trials of Mana)

Community content is available under
CC-BY-SA
unless otherwise noted.