The Machine Golem R is a boss in Trials of Mana. Two are fought on the bridge between Stonesplit Gap and Molebear Moors.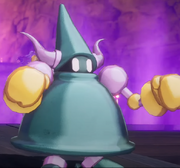 Statistics
Edit
The 2 Machine Golems can be a pretty tough fight. Their normal attacks hit for moderately high damage, and their Rocket Launcher attack can do up to 100 damage to a single character...unless they are at full health there's really not much you can do about this, either revive that character or keep fighting without him/her. Try to take them out one at a time, that way you cut their collective offense in half as soon as possible, and the other golem will be easy pickin's.
Community content is available under
CC-BY-SA
unless otherwise noted.