Slime has two variants: Lime Slime and Dread Slime.
Lime Slime
Edit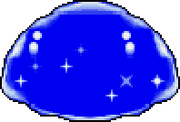 Statistics
Edit
Lime Slime can be a nuisance. His slime bubble attack will either cause poison, frost, or engulf. Green bubbles cause poison, blue ones cause frost, and red ones cause engulf, but they are also capable of doing different things. Other than that, you need to worry about Dark Force and Evil Gate. Do not cast saber magic, as he can cast Dispel Magic to take them right off.
If you went to the Light Palace and got Lumina before you came here, Purim's level 5 Lucid Barrier may stop the damage of slime bubbles, but not the status effects. To kill him, have Popoi cast level 4 or level 5 Exploder repeatedly until he is defeated. Purim should use level 4 or level 5 Cure Water if HP is low, and Fire Bouquet to cause some extra fire damage.
If Popoi's Salamando is only level 2, it will only do 1 damage to Lime Slime. Despite its high physical defense and vast health pool, you can still take it out in about 80-100 hits, or fewer if you charge them up beforehand.
Dread Slime
Edit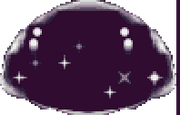 Statistics
Edit
HP: 5000
MP: 99
EXP: 37000
GP: 26400
Weapon Orb: None
Weakness: Shade
Location: Mana Fortress
Other than the last two bosses, Dread Slime has the most HP in the game, which means this battle can take a while. There are some things to know about this boss. First off, his main attack is Acid Storm, which is no biggie. However, if Popoi casts a spell on him, Dread Slime will start to cast a spell of that same element. For example, if Popoi casts level 8 Freeze on Dread Slime, Dread Slime will start to cast Freeze as well. He will copy every single element except Luna magic and Shade magic, which he is weak against.
Second, if Purim casts Wall on the party, Dread Slime's magic will be reflected back onto him for more damage. Unlike Lime Slime (which got smaller as it took more damage), Dread Slime actually gets larger as it takes damage, and soon enough, your characters will be stuck in one spot, making it impossible to attack it physically. Your primary choice of offense would be Popoi's level 8 Dark Force spell - it does heaps of damage to the boss. Randi is particularly useless throughout most of the battle, as the boss has high defense. Purim needs to be casting either level 8 Wall or Cure Water for defense.
Community content is available under
CC-BY-SA
unless otherwise noted.