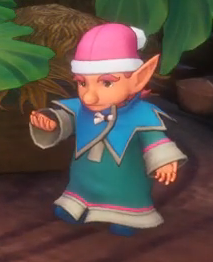 The koropokkur are a humanoid race in Trials of Mana. Adults stand no taller than a blade of grass, but apart from their diminutive size, they closely resemble humans.
Koropokkur are distrustful of humans, so they live far away from them and close to nature. They make their homes in hollow trees that they decorate with plants and mushrooms, and use acorns as food and currency.
The world's only koropokkur settlement is the Koropokkur Woods, which is hidden in the Rabite Forest. The party must examine a gargoyle statue to reveal the entrance to the settlement and use the Minor Mallet to make themselves small enough to pass through it.
List of known koropokkur
Edit
The koropokkur are very similar to the korpokkur, a race of small people from the mythology of northern Japan's Ainu people.
Community content is available under
CC-BY-SA
unless otherwise noted.