The Jungle of Visions (called the Jungle of Illusion in the fan translation) is one of the final areas of Trials of Mana and can only be reached via the use of Flammie. It is only able to be explored if the main protagonist is Kevin or Charlotte; other main protagonists can only explore the area around Pedda. This is one of the places where the heroes can fight Zable Fahr, the Benevodon of Darkness. Goremand also appears as a boss near the entrance to the Mirage Palace. The Jungle of Visions eventually leads into Kevin and Charlotte's final dungeon, the Mirage Palace.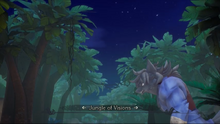 Community content is available under
CC-BY-SA
unless otherwise noted.