See also: Slime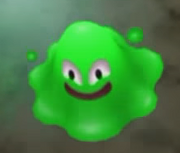 The Green Slime, also known as Faceorb, is an enemy in both Final Fantasy Adventure and its remake Adventures of Mana.
Final Fantasy Adventure
[
]
EXP: 5
GP: 4
Drops : Mattock
Weaknesses: Damaged by magic, weapons with special properties (Silver Sword, Thunder Spear, etc.) or the Morning Star
Location: Marsh Cave, Cara Mountain Range, Davias' Mansion, Dime Tower, Glaive Castle, Glaive's Airship, Kett, Temple of Mana, Undersea Volcano
Attack patterns: May divide if not killed, contact sometimes causes poison.
Adventures of Mana
[
]