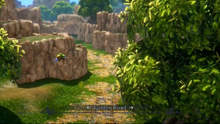 The Golden Road is a field region in Trials of Mana connecting Maia and Beiser.
The Golden Road was at one time a bustling trade route, but due to monster activity brought about by the shift in the world's mana power, much of this trade has been interrupted. On the advice of Von Boyage, our heroes must brave this treacherous route to reach Valsena via Stonesplit Gap to the north. Meanwhile, the port of Beiser to the southwest is closed and heavily guarded in light of hostilities nearby.
Later, as our heroes have liberated Valsena, the Hero King sends them to Beiser in order to reach Palo across the ocean; and from Palo, they may reach Laurent and the Windstone believed to be held there.
As the heroes escape Beuca Island with the aid of Vuscav, the creature drops them off on the southeast beach in order that they will return to Valsena. After the Hero King tells them where to find the remaining Mana Spirits, the Golden Road becomes one of the many places Vuscav can make landfall.
| Treasure | Location | Availability | Notes |
| --- | --- | --- | --- |
| Chocolate (1) | Under a palm tree on the beach next to Maia. | Chapter I | - |
| Cup of Wishes (1) | Next to a small feeble tree in front of a waterfall close to the main road. | Chapter I | - |
| | Wedged between a pil of rocks and bushes close to the main road. | Chapter I | - |
| Accessory [C1] (1) | On a peninsula next to a single tree surrounded by a lake reached by following an offbeaten track. | Chapter I | - |
| Chocolate (1) | In a dead end barred by dead branches and rocks close to the main path. | Chapter I | - |
| 400 lucre | Behind a hill close to the bridge leading to Beiser. | Chapter I | - |
| Faerie Walnut (1) | Behind a tree very close to Beiser. | Chapter I | - |
Talk to the man on the east side of the road near Maia, then follow the paved path west to reach a fork in the road. Head north to remain on the paved path and Li'l Cactus will trigger a cutscene, after which he drops off his stamp card so that the player can track the hunt. This is the first sighting. It is also the only mandatory sighting.
Community content is available under
CC-BY-SA
unless otherwise noted.