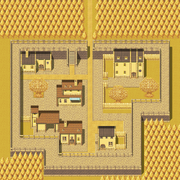 Gold City is a town in Secret of Mana.
Location
[
]
Gold City is located on an island between Kakkara and the main continent of the Vandole Empire, near the center of the world map. It can only be reached by riding Flammie.
Story
[
]
Everything in Gold City - the buildings, the streets, the walls, and even the trees and grass - is made of gold, which King Mammon has created with the power of Lumina. The party visits this opulent locale in search of Sage Joch, and must find their way into the nearby Gold Tower to free the Mana Spirit within.