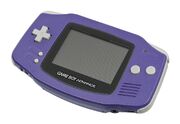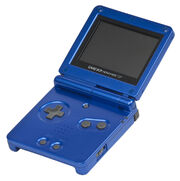 The Game Boy Advance (aka GBA) was a handheld video game system manufactured by Nintendo in 2001. The Game Boy Advance used a different style of cartridges than the Game Boy and Game Boy Color. As such, you can play Game Boy and Game Boy Color games on the Game Boy Advance.

Two years later, a redesigned version of the Game Boy Advance was released under the name Game Boy Advance SP. The SP is for Special Project. The SP is designed to fold, and when folded, it is roughly half the size of the original Game Boy Advance. It also features a backlit screen, the first handheld from Nintendo to feature one. Also, instead of using batteries, the SP has a rechargeable battery pack that is already installed. The battery life is 10 hours with the back light on, and 18 without it.
In 2005, a third and final variant, the Game Boy micro was released. More compact than the SP, the Game Boy micro also had a system of interchangeable faceplates, with some custom designs only available via promotional bundles. However, the ability to play earlier Game Boy cartridges had been removed to keep the unit to size.
Mana titles for Game Boy Advance

[

]