For the landmark as it exists in Sword of Mana, see Gaia Cave (Sword of Mana).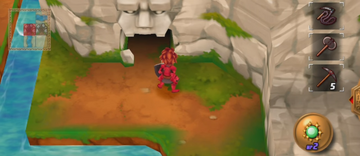 Gaia Pass, also known as Gaia Cave, is a location in Final Fantasy Adventure as well as its remakes, Sword of Mana and Adventures of Mana. The mountain pass, believed to have been a sentient creature transformed into rock, is located west-southwest of Wendel.
Story
[
]
The dwarfs of Dwarf Cave are all too well aware of Gaia's existence and its taste for the mystical metal known as mythril. The blacksmith Watts went out from the cave to the Forbidden Mines in search of some, but has not returned.
Fuji has been abducted by the Duchy of Glaive after her visit to Wendel. To rescue her, Sumo must cross the pass to a lake where Glaive's airship is moored, but he is rejected by the rock in his current state. This leads him on a detour to repair a rusted mine cart, rescue Watts, vanquish a Megapede, and finally procure a chunk of unrefined mythril. Watts then takes it back to Dwarf Cave and crafts three pieces of mythril gear for Sumo in thanks for his help.
Clad in mythic silver, the cave at last accepts Sumo as worthy of it. When he reaches the southern exit, Bogard catches up to him and offers to help him rescue Fuji.
Enemies
[
]