For the landmark as it exists in Sword of Mana, see Abandoned Mines (Sword of Mana).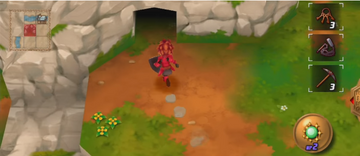 The Forbidden Mines is a dungeon in Final Fantasy Adventure and its remake Adventures of Mana.
Story
[
]
A dwarf named Watts has gone missing in the mines while he searches for the rare metal known as mythril, said to lie within. His fellow dwarfs ask Sumo to bring him back. But the mine cart used to navigate the caves and haul raw ore has been rusted in place for some time. Sumo learns of an oil peddler to the south that has the potent Rust-B-Gone and buys a tube. The lubricant works, perhaps too well, as Sumo jumps into the cart, which careens out of control and crashes, throwing him into a mining pit. He lands next to Watts, who agrees to go with him to help search for the mythril.
As the duo plumbs the depths of the mines, they encounter a massive lode of raw mythril. Before Watts can take it all in, a Megapede bores through the mine floor and attacks. Though heavily armored, the beast is defeated. Watts takes his prize back to Dwarf Cave and begins work on mythril arms.
Sublocations
[
]
Forbidden Mines B1
Forbidden Mines B2
Forbidden Mines Gorge (Boss Lair)
Enemies
[
]
Treasures & Items
[
]
Chunk of Mythril -- in a chest after slaying the Megapede

Watts' Shop
[
]
Note: Sumo can talk to Watts anytime during this dungeon to access its wares.
| Name | Qty | Use | Cost |
| --- | --- | --- | --- |
| Keyring | 4 | Open locked doors | 15 |
| Antidote | 3 | Removes poison | 30 |
| Eye Drops | 3 | Removes darkness | 60 |
| Mattock | 7 | Breaks boulders & weak walls | 60 |
| Gold Needle | 3 | Removes petrify | 90 |
| Mole Whiskers | 3 | Removes moogle | 120 |
| Hi-Potion | 2 | Restores 30 HP | 160 |