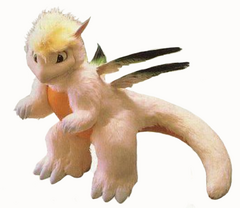 Flammie (フラミー Furamī) is a recurring character in the Mana games. Sometimes spelled Flammy, the name may refer to a single dragon, as in Secret of Mana, or a race of draconic creatures, as in Dawn of Mana.
Profile
[
]
Flammies appear in multiple games as either a named individual or a species. In either event, they're shy, though otherwise joyful and friendly creatures. They sometimes are special creatures created by the Mana Goddess or Tree to help protect the world, and other times just a normal, if somewhat rare, creature.
Flammies typically serve as a means of transportation in the game by allowing a player's characters to ride on a Flammie's back to different locations in the game's world.
Appearances
[
]
See also: Flammie (Secret of Mana) and Flammie (Trials of Mana)
In Secret of Mana and Trials of Mana, the Super Nintendo's Mode 7 graphics capabilities allow the player to control a Flammie from either a "behind the back" third-person or top-down perspective, and fly over the landscape as it scrolls beneath them. In 3D versions, the third-person view has been expanded and scaled, while the top-down view focuses in on Flammie himself. The 2020 remake of Trials of Mana does not have a top-down view option, but the camera can be rotated to approximate such.
In Children of Mana, the player selects on a world map a number of destinations he or she wishes to fly to with a Flammie.
In Dawn of Mana, a Flammie is referred to as a sacred beast or "the sacred beast" and has ended up saving and helping the protagonist of that story for short periods of time. The Flammie is not controllable during gameplay, only appearing in cut-scenes during the story mode. The feather worn by the protagonist is most likely one created by a Flammie.
In Heroes of Mana, the party goes to meet a Flammie known as the Winged Guardian. Unlike typical versions; this one is elderly, talkative, and very knowledgeable about the universe. It gives the party some background information about their enemies power before helping them get to the enemies base. It plays a vital role in the final battle, making sure Roget gets the Sword of Mana and attacking the Goddess of Doom; giving Roget his chance to destroy the mirror and end the war.
Gallery
[
]
Behind the scenes
[
]
According to a transcript of developer interviews circa 1993, Flammie was inspired in part by the character of Falcor, a dragon with canine features in the 1980s film The Neverending Story.