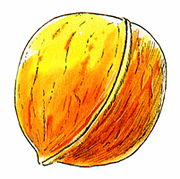 The Faerie Walnut, also known as the Magic Walnut, is a recurring item in the Mana series. It typically restores a large portion of the target's MP when consumed.
Because magic is typically absent until the player makes contact with the Mana Spirits, Faerie Walnuts are quite rare and often many times more expensive than other restorative items.
Appearances
[
]

(Known as Magic Walnut)
Buy: 45
Sell: 22
Use: Recover 80 MP. Players might prefer Magic Walnuts over Sitting, since Sitting can take a very long time. Magic Walnuts are also very cheap and are easier to come by.
Locations
[
]
Chest: Vinquette Hall, Airship (x3), Prickly Desert, Devius Manor, Mt. Illusia, Granz Castle (x3), Glass Desert (South), Kahla Peaks, Rocky Wilds, Subland River, Glass Desert (North), Ruined Passage (x2), Dime Tower (x2), Mana Sanctuary, Mana Temple
Store: Wendel General Store, Menos General Store, Jadd Blacksmith, Jadd General Store, Ishe General Store, Niccolo
Monster Drops: Cursed Doll (56%), Tomato Man (56%), Skull Beast (15%), Fierce Face (50%), Punkster (56%), Beholder (56%), Shamanion (56%), Granz Wizard (56%)
Use: Restore 50 MP
Location: Various stores, Neko's, treasure chests
Price: 500GP (normal), 1000GP (Neko)
Faerie Walnut (Magic Walnut in the fan translation) is an item in Trials of Mana.
2D Version
[
]
Use : Restore 20 MP for one ally.

Place to Buy : All Shops
Buy : 40
Sell : 20 L
Monster Drops : Tezla, Mushgloom

3D Version
[
]

Use : Restore 50 MP for one ally.

Place to Buy : All Shops
Buy : 150 L
Sell : 37 L
Monster Drops : Tezla, Mushgloom

Nomenclature
[
]
Names in Other Regions
Language
Name
Meaning
Japanese
魔法のクルミ (Mahō no Kurumi)
Magic Walnut
Chinese
French
Noix magique
Magic Nut
German
Feennuss
Fairy Nut
Korean
Spanish
Nuez mágica
Magic Nut