For the location of the same name in Sword of Mana, see Dwarf Cave (Sword of Mana).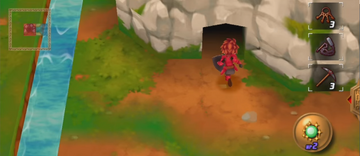 Dwarf Cave is a settlement in Final Fantasy Adventure and its remake Adventures of Mana. As its name implies, it is a grotto populated by industrious dwarfs.
Story
[
]
With the shift in mana power, a dwarf named Watts has gone missing (with a gang of Dudbears in the rewrite). His buddies in the cave tell our hero that he loved to run around on the mine cart in the Forbidden Mines. He was also hunting for mythril when he vanished. Sumo heads for the mine in search of the mystical metal, needed to traverse Gaia Pass and rescue Fuji from the Glaive Empire. Watts is himself rescued and finds a mythril vein deep within, guarded by Megapede. When Watts returns from the creature's defeat, he makes several mythril arms from the minerals he found, allowing Sumo to press on.
Shops
[
]
Weapons and armor
[
]
Name
Type
Stat Change
Cost
Mythril Shield
(Silver)
Shield
Ranged/Pierce resist up
505
Mythril Blade
(Silver)
Sword
ATK +14
Breaks most enemy defense
562
Mythril Armor
(Silver)
Armor
DEF +11
700