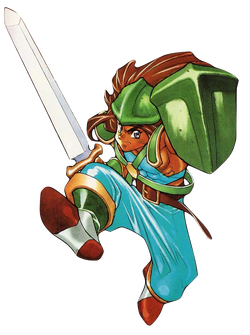 Duran (デュラン, Dyuran) is one of the six playable characters in Seiken Densetsu 3.
Story
Duran is a mercenary swordsman from the Grasslands Kingdom of Valsena (Forcena in the fan-translation) who proudly serves the wise King Richard. Duran's father Loki, a good friend of Richard's, was lost in a battle with the Dragon Emperor when Duran was still young. Soon afterwards, Duran's mother succumbed to an illness, leaving Duran and his little sister Wendy to be raised by their aunt Stella. One night, Duran is on guard duty at the castle of Valsena when the wizard Koren attacks the castle. Duran fights back, but is overwhelmed by Koren's magical abilities and is left for dead. After making his recovery, Duran vows to become the best swordsman in the world and to exact his revenge upon Koren. He then leaves for the Holy City Wendel to ask the Priest of Light about changing classes.
Duran shares many story elements with Angela, who comes from the Magic Kingdom of Altena which tries to invade Valsena. If either of them is chosen as the main protagonist in Seiken Densetsu 3, the main villain will be the Dragon Emperor and the final dungeon will be the Dragon Hole.
Abilities
At first, Duran is a straightforward sword user with above-average Strength and Vitality stats. Upon changing classes, Duran can learn some magic to supplement his physical abilities. His Light classes learn primarily healing magic, whereas his Dark classes mainly focus on adding elemental attributes to weapons. Duran's Light classes have another benefit: they are the only classes capable of equipping shields, which greatly boost the wearer's Evasion stat.
Gallery
Community content is available under
CC-BY-SA
unless otherwise noted.