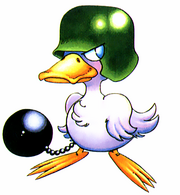 Duck GI, also known as Duck Soldier or Mad Mallard, is a recurring enemy in the Mana series.
Appearance
Edit
The Duck GI is a semi-anthropomorphic white-feathered duck. It wears a forest-green old-fashioned army soldier helmet (the allusion to which is also found in the latter half of its name), and wields a simple black metal flail. The yellow variant from Secret of Mana is called Captain Duck.


Related enemies
Edit

Related enemies
Edit
The Mad Mallard is an enemy and potential pet in Legend of Mana.
Monster Locations:
Duma Desert
Junkyard
Tower of Leires
The Flames
Battle Drops:
 Exp + Lucre
 Exp + Lucre
 Soldier's Helm
 Destiny Dice
 Ninja's Charm
 Captain's Helm
 Captain's Helm
 General's Helm

A Mad Mallard named Captain Dayang can join your party as a pet monster if Lake Kilma has a Wisp level of 3.
Egg Locations:
N/A
Syncro:
Defense Plus
Sell:
10
Default Stats:
Pow: 7
Skl: 8
Def: 10
Mgc: 3
HP: 10
Spr: 7
Chm: 3
Lck: 5
Related enemies
Edit
Related enemies
Edit
Community content is available under
CC-BY-SA
unless otherwise noted.