There are three Dragon variants, all of which are battled in Pure Land: Snow Dragon, Red Dragon, and Blue Dragon.
Snow Dragon
Edit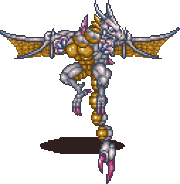 Statistics
Edit
HP: 2800
MP: 99
EXP: 26588
GP: 18360
Weapon Orb: Axe
Weakness: Salamando
Location: Pure Land
This is the first of the three dragon bosses in Pure Land. These dragons like to blow breath at you (this particular ones does Freeze Breath like the Frost Gigas) and cast spells. They will also swipe you with their tails if you are near their spiky tails. Tail Swipes hurt, so stay away from them. This particular dragon does not like fire magic, so Popoi needs to be casting level 7 fire magic on this boss. Remember, Purim can also help out with fire spells as well, but she also needs to heal if anyone is low on HP. Also, the Dragon Spear (and any other dragon weapons) will deal good damage to dragons.
Red Dragon
Edit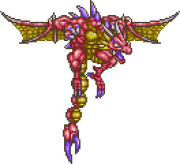 Statistics
Edit
HP: 3000
MP: 99
EXP: 29000
GP: 21800
Weapon Orb: Glove
Weakness: Undine
Location: Pure Land
This would be dragon number 2 on the list. Red Dragon has the opposite abilities of the Snow Dragon, so obviously you need to be casting water magic to beat him quickly. Fire breath will engulf a target, so be careful of that. Other than that, if you took out the Snow Dragon with no problems, this battle should be a piece of cake as well.
Blue Dragon
Edit
Statistics
Edit
HP: 3200
MP: 99
EXP: 31570
GP: 28560
Weapon Orb: Boomerang
Weakness: Gnome
Location: Pure Land
This is the last dragon, and the last boss of Pure Land. Basically, this fight will be similar to fight with Thunder Gigas; you'll be up against Blitz Breath again, but this time it's weakened. Thunderbolts may also come flying your way, so watch for those. It's round 2 for Gnome, so Popoi needs to once again cast level 7 Earth Slide or Gem Missile to quickly put this boss away. Purim can heal if anyone gets low, and Randi needs to be attacking.
Community content is available under
CC-BY-SA
unless otherwise noted.