For the boss in Sword of Mana, see Mindflare (Sword of Mana).
For the boss in Final Fantasy Adventure and Adventures of Mana, see Mind Flayer (Adventures of Mana).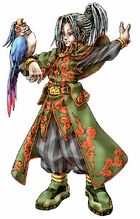 Davias, later known as Devius, is a non-player character in Final Fantasy Adventure as well as its remakes,Sword of Mana and Adventures of Mana.
Story
[
]
Final Fantasy Adventure and Adventures of Mana

[

]
Davias is a servant of the Dark Lord and rules over the walled city of Jadd from an old mansion on a high terrace in the northwest of town. Any who oppose him are cursed or killed, and the citizenry is none too pleased. Sumo enters a city dead silent per Davias's orders.
Moments before, Amanda has given up the pendant she took in order to bargain for her brother Lester, turned into a parrot. Davias cannot release the curse. However, Davias tells Sumo that Amanda has made for the Shifting Sands to capture Medusa. Sumo also learns that the tears of a gorgon can be used to lift curses. He decides to follow Amanda to the Shifting Sands to aid her in her errand. Though they succeed, Amanda becomes cursed during the battle and asks to be put to death to prevent the curse from taking full hold. Sumo reluctantly agrees to do just that.
While Sumo and Amanda are kept busy, Davias disappears through a passage to the roof. Sumo then returns to the mansion and uses Amanda's Tear to transmute Lester back into a human. The two men discuss what has transpired so far, and pledge to avenge Amanda together and slay Davias.
As they reach the roof, Davias taunts them, then transforms into the Mind Flayer. Though the battle is long, the warriors emerge victorious. With his last, Davias warns that he has already sent Garuda to Crooked Boulder.
Sword of Mana

[

]
Devius (birth name Gurnda) is the son of Lord Granz and Lady Medusa. This makes him half-human and half-Mavole. He was separated from his father and brother Stroud (Dark Lord) as a child. This seemed to have a psychological effect on him. He seemed to be very close to his mother, Medusa.
Devius lives in a huge mansion in the city of Jadd. From his place of residence and his behavior, one would think that he is a very rich and noble individual. He seems to have a fondness for birds. He would gather minstrels from all over the world to his mansion, where they were transformed into birds or Rabites for his mother's amusement. After he discovers his mother was killed by the Hero at the Altar of Time, he places a curse on Amanda. He turns into Mindflare, whom the hero defeats.
See Also
[
]