For the character & boss in Sword of Mana, see Dark Lord (Sword of Mana).
The Dark Lord is a major antagonist and boss in Final Fantasy Adventure and Adventures of Mana.
Story
[
]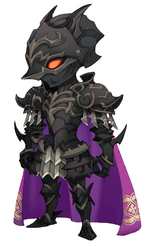 Dark Lord is presented as the main antagonist and ruler of the nascent, but swiftly growing, Glaive Empire. He rules from Glaive Castle below Mt. Illusia and routinely kidnaps people from the land below to use as gladiators to fight monsters for his amusement. He intends to gain the power of mana and use it to conquer the world, like the Vandole Empire once attempted to do. Dark Lord discovered his most powerful servant, Julius, as an infant and raised the boy himself.
Sumo, the hero of the story, was one gladiator who was known for being able to take out the monsters pitted against him. When he escapes Glaive Castle, the Dark Lord sees him and gives chase. He almost kills Sumo by pushing him off a cliff.
With Julius' help, Dark Lord successfully seizes Fuji, a girl believed to hold the secret to unlocking mana power, and her pendant. Before he can set the final stage of his plan into action, however, he is confronted by Sumo in his castle and slain.
After Dark Lord's death, Julius soon reveals that he is the prince and heir of the Vandole Empire's throne and that the pendant Dark Lord had on his person was fake. Dark Lord is not seen again after his death.
Battle
[
]
Dark Lord can be found at the top of Glaive Castle, where Sumo will face him in a one-on-one duel.
Strategy
[
]
Sumo should equip the Blood Sword or Morningstar to prepare for the battle about to take place, and have the Cure spell ready, especially if he is underleveled. Dark Lord will use every opportunity he can to find Sumo and slash at him. If he gets some distance, however, Dark Lord may try to spear Sumo with a charged attack. The player should follow Dark Lord and strike when Sumo has an opportunity, healing when needed. The Blood Sword will help offset some damage, and Dark Lord will fall with his helmet thrown on the ground before him.
External links
[
]