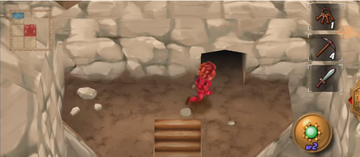 Crooked Boulder (previously Mt. Rocks) is a dungeon in Final Fantasy Adventure and its remake Adventures of Mana.
Story
[
]
As Sumo continues his quest to rescue Fuji, he must leave his chocobo at the foot of the craggy peaks lined with bleached bones. Two monster dens bar his ascent. A bloodthirsty cyclops waits on an eastern moor, but Sumo challenges and defeats it. He later discovers a work of ancient machinery in the mountain caves, sparring with it before reaching a bridge at the summit. The bridge suddenly collapses, leaving our hero with no path back down. Glaive lies beyond via a pass behind the great waterfall.
Sublocations
[
]
Crooked Boulder Moor (Boss Lair)
Crooked Boulder Bridge
Enemies
[
]
Treasures & Items
[
]
Morningstar -- In a chest after slaying the Cyclops in Crooked Boulder Moor.
Book of Thunder -- Obtained after slaying the Grinder in Golem Den.