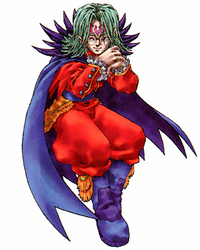 Count Lee is a non-player character from Final Fantasy Adventure and its remakes; Sword of Mana and Adventures of Mana.
Count Lee is the prince of Mavolia. However, he gave up his title and status to move to the human world with his love, Medusa. However, Medusa was unaware of Lee's feelings for her, and once in the human world, she fell in love with Granz, the ruler of Granz Realm. Though depressed, Lee bore Granz no ill will, and the two became firm friends. In this time, Lee claimed ownership of Vinquette Hall. Before his mysterious disappearance, Granz asked Lee to do something for him: kidnap Mana Women and put them to sleep in his manor, storing them in coffins to make them appear dead. Granz asked this of Lee to protect the Mana Women from the evil intentions of Dark Lord.
Discovery
Edit
After this plan had been practiced for a while, Lee was visited by a fellow Mavole by the name of Isabella. Shortly after this, a boy and a girl arrive at Vinquette Hall, seeking Lee's help in unblocking the cave to Wendel.
As a Boss
Edit
Count Lee transforms into a vampire and starts attacking the hero and the heroine.
Statistics
Edit
HP: 130
Power: 17
Intelligence: 16
Defense: 10
Mind: 14
Agility: 11
Experience: 10
Count Lee is not that strong, especially if you have been training. Though, most of your attacks except your Sword/Staff will not do much to him. If you have been training as a Class that focuses on Power, then your Sword will take him down in a few hits easily, where as if you are doing Magic, good luck. The Hero's Salamander does barely any damage to him, but the Heroine's Wisp does decent damage, so you may want to switch and use her. Either way, he is not all that hard and most of his attacks are not that dangerous, save when he turns into a ton of Bats. THAT gets annoying and can really rack up damage on you. Other than that, just attack with your Sword if you can and use the Heroine's Wisp Magic Attack and you will do fine.
Community content is available under
CC-BY-SA
unless otherwise noted.