Cannon travel is a recurring element in the Mana series. Unique among fast-travel systems in the Square Enix multiverse, it involves the player party quite literally being shot from giant cannons stationed throughout each world in which the stories take place. Whether they arrive at a corresponding cannon depends on the stories themselves.
Appearances
[
]
Sword of Mana
[
]
With the chocobo removed from the Final Fantasy Adventure rewrite, fast travel has been incorporated via a series of Armories scattered throughout the regions of the world. For a fee, Professor Bomb will blast the Hero and their companion anywhere the player chooses to go.
Secret of Mana
[
]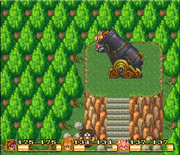 Making its debut, cannon travel is available in all major regions of the world. There are eight Cannon Travel Centers in all, run by the Cannon Brothers. One of the eight brothers is known to be married to a woman in Kippo Village, though she states she has a hard time telling them apart. Dialogue added to the 2018 remake has the party entertaining a bizarre theory that there are no brothers whatsoever, and that cannon travel is the work of one freakishly fast man. Nonetheless, the party finds it fun to use in moderation.
Trials of Mana
[
]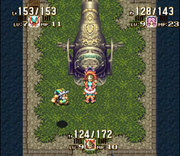 Managed by La Famille Von, cannon travel makes its second appearance. The party meets Von Boyage and observes his first cannon behind his house in Maia, but he gets a bit too excited and forgets about fuel, leading them on a long quest to retrieve nitromyte from the dwarfs. Once he has it, Von Boyage fires toward Valsena and undershoots.
Later, Boyage has his brother, Von Jour, install the second cannon in the Valsena courtyard.
A third, temporary cannon is operated from the Heavensway by the brothers' cousin, Mercie.