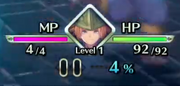 The CS Gauge, short for Class Strike Gauge, is an important mechanic unique to the 3D remake of Trials of Mana.
CS Gauges play an essential part in performing class strikes. Each CS Gauge holds 100 particle units which is displayed in percentage on the screen. Each CS Gauge unit is worth 100 particles or 100%. The player must collect particles, shown in-game as light blue crystals of varying sizes to fill up the gauge at the bottom of the screen. They can do so either by hitting enemies of by breaking blue urns on the field.
The number of CS Gauge unit is dependent on the character's class level. A default class like Duran's Fighter class will only have two CS Gauge units. However, class 2 have three, class 3 and class 4 have four units.