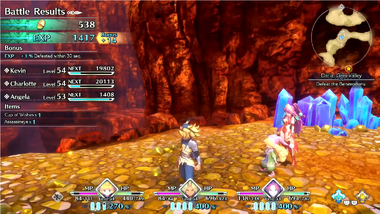 Battles Results show up on a pop-up menu appearing at the end of each battle in the 2020 remake of Trials of Mana.
There are many bonuses that can be triggered upon defeating enemies. Bonuses usually require to take down enemies within a predetermined time limit, using a class strike in a final blow or having accessories equipped.
Defeat Enemies Within Time Limit
Defeated within 30 sec.
EXP +1%
Defeated within 20 sec.
EXP +2 or 3%
Defeated within 10 sec.
EXP +5%
Defeat Enemies With Certain Moves
Defeated opponent with a class strike
EXP +1 or 2%
Attacked with elemental weakness.
EXP +?%
Other Requirements
Defeated without taking damage
EXP +10%
Li'l Cactus Boost
EXP x3
(occasional)
Curious Cookie
EXP +10%
(lasts about 10 minutes)
Miracle Cookie
EXP +15%
(lasts about 10 minutes)
Mythic Cookie
EXP +20%
(lasts about 10 minutes)
Rabite Adornment
EXP +?%
(After each battle up to level 10)
Community content is available under
CC-BY-SA
unless otherwise noted.