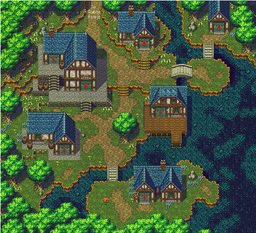 The Lakeside Town Astoria is the first village in Trials of Mana that the main character can visit. Located southeast of Jadd Stronghold and west of Cascade Cavern near Rabite Forest, the hero's adventure begins here.
After the hero's collapse from their long journey, a passing adventurer recovers them and takes them to the inn. They return to Cascade Cavern and find the path to Holy City Wendel sealed off by a magic ward. All but Charlotte arrive via Jadd, while Charlotte returns to the forest to find Heath and witnesses his capture by Goremand. The hero must speak to three witnesses who observed a floating light, including one in the depths of the forest. As they rest at the inn a second night, the floating light returns as bright as day. Curious, the hero wakes and follows the light, which lands in a small clearing. They are shocked to find a severely exhausted Faerie seeking the aid of someone who will escort her to the Priest of Light in Wendel, for the power of mana grows weak, as does she. To survive, she must bond with a host, to which the hero agrees as they also seek guidance. Before the pair can get acquainted, the sounds of war are heard from Astoria. As the hero rushes back, they find the village utterly destroyed by the work of beastmen.
In the 3-D version, the armor shop is permanently closed, as the proprietor is asleep at all times.
Community content is available under
CC-BY-SA
unless otherwise noted.