"I'm Angela, princess of Altena."
—3D selection
Angela (アンジェラ, Anjera) is one of the six main characters of Trials of Mana.
Profile
[
]
Appearance
[
]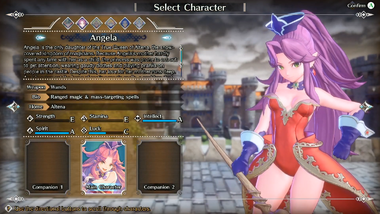 Angela is a young woman with long lilac hair and green eyes, described as the image of her mother the True Queen. However, she also has tapered ears, not unlike those of elves. In her default Magician class, Angela's outfit consists of a red leotard with a wrap-around garment at the waist that forms a cape, along with a purple hair ornament, choker, gloves, and boots.
In the remake, her clothing is trimmed with gold accents, her boots have long oriental points more defined high heels, and these along with her cuffs and choker are adorned with gemstones. She also sports a pair of jewel earrings In both versions, she wields wands and staves as weapons.
As she learns to switch classes in the remake, Angela's attire will change according to the path she takes. Her Light classes give her more coverage overall, emphasizing dresses and fuller capes, while her Dark classes veer toward full bikinis and expose more of her body as they progress upward.
Personality
[
]
Owing to a lack of support from her mother, Angela has developed a rebellious air. She was known to play pranks on the Queen's courtiers, for which she was scolded frequently. She often views others as below her and has a quick temper, demonstrated when events do not go her way. Her stubbornness has caused some friction between her and the court mage José, as she has skipped his lessons at times.
Her portrayal in the remake is that of a spoiled princess, when in reality she struggles with her lack of ability as well as rejection by the Queen. In the English script, she speaks in a dialect typical of Southern California.
Story
[
]
"Wendel, huh? I don't know what awaits me there, but it's better than getting caught in my own kingdom. I'll go. It can't be worse than here. If I learn how to handle my magic, maybe my mother will welcome me back... There's a chance, at least."
—Angela
See also: Angela's Introduction
Angela is the only princess of the ice-covered Altena, Kingdom of Magicians. Her mother, Valda, the True Queen, uses her magic to keep the Altenish citadel in a perpetual spring. However, like her country, Valda is cold and unfeeling towards her daughter, who has become lonely and selfish as a result of her upbringing. The fact that Angela is the only person in Altena who cannot use magic does not improve her disposition. As the world's mana starts to fade, the Queen's spell weakens, and winter begins to return to Altena. In order for her spell to continue and prevent Altena from freezing over, Valda, following the advice of the Crimson Wizard, decides to invade other nations and claim their Mana Stones. Once done, she would make use of a cursed ancient spell intended to unlock the power of Mana kept in the Stones, opening the way to the infinite power found in the Sword of Mana, letting her spell continue. Unfortunately, the spell for unlocking the power of the Mana Stones requires the user to sacrifice a life when it is cast; Valda decides to sacrifice her own daughter to power the spell.
When Angela learns of this, she unwittingly uses her latent magical powers to teleport out of Altena and into the Frostbite Fields. She soon succumbs to the cold and collapses, but citizens from the nearby town of Alrant find her and nurse her back to health. After receiving counsel from a wandering fortune-teller, Angela decides to travel to the Holy City Wendel and ask the Priest of Light for guidance.
Angela shares many story elements with Duran, who lives in Valsena, one of the many kingdoms Altena tries to invade. If either of them is chosen as the main hero in Trials of Mana, the main villain will be the Dragon Lord and the final dungeon will be Dragonsmaw.
Abilities
[
]
Angela is a somewhat stereotypical "mage" character, having weak physical abilities but access to a variety of powerful magic. Though Angela cannot use magic at first, she begins to learn moves with the help of the Mana Spirits that join the heroes on their quest. Changing classes allows her to use more powerful moves; Angela's Light and Dark classes primarily allow her to use more powerful Light and Dark magic, respectively. Her Light classes have a larger focus in causing large amounts of damage to multiple enemies while her dark classes focus more on focusing damage on one target.
Classes
[
]
Below is a list of Angela's classes. The first class change takes place at Level 18, while the second one takes place at Level 38, with the latter requiring specific items acquired from ??? Seeds.
Note:
Class 4 path is dependent upon the path of the Class 2 switch. All Class 3 abilities learnt are retained.
Sorceress
[
]
The Sorceress is the path both expected of the Magician and respected by all who know the rigors of the arcane, and not without good reason. Having tempered a lust for power with reason and focus, the Sorceress calls down incredible destruction on her foes- blizzards, firestorms, lightning and rock slides all serve as warning to those who would waylay her. While her skill with dark magic wanes, the power of light beckons, offering a powerful ray of scorching light that reduces unholy foes to ash.
Mysticist (Delver)
[
]
Rather than an interest and focus on the path of methodology, proper rites, and traditionally proven workings of magic to utilize it as it is, the Mysticist has instead directed their focus on seeking the ways of achieving greater magical power itself to bend all phenomena to their whim. However, such a path veers nearest the temptation of achieving power at any cost and the will to even undergo the ways of the dark arts.
Grand Diviner (Grand Divina)
[
]
Those who are afraid of the darkness have never seen what the powers of light can do when roused. Some practitioners of war magic feel that some holy force has called them to learn such terrible things, that the wicked would remain afraid and hesitate to wage open war. Having all but abandoned the dark arts, the Grand Diviner does not so much fight evil as she reduces it to very small bits, spreading her magics to envelop enemies in a cornucopia of elemental pain.
Archmage
[
]
The path taken by those whose practice of magic is for the sake of the practice of magic. Redundant as it may sound, this pragmatic, life-long study of what magic is and is not allows the Archmage to have an understanding of the elementals that is free from both holier-than-thou or megalomaniac mentalities. Her skills with magic go beyond mere recitation of moves, having developed an almost first-name basis relationship with the four prime elementals Salamander, Gnome, Undine, and Jinn. This bond is such that she can call on them directly to wreak havoc on those who would interrupt her study with banditry and other such unsavory diversions, meaning that most Archmages are left well enough alone.
Rune Seer (Rune Master)
[
]
Considered the true embodiment of the dark arts of magic, the Rune Seer has achieved their mastery through reinforcing their quest for ultimate magic power through controlling such might through the ways of harnessing by incantation and binding such forces upon call through evocation. Utilizing the power of knowledge, the Rune Seer has vigorously studied long lost languages of mystical influence and magical power believed to tie deeply into the fabric of creation itself, and through their influence, summons terrifyingly great forces of nature upon their recital. As such, the might of Rune Seers call upon moves of such order and chaos that though their magic brings about unmatched spell power, their aftermath is dangerously unpredictable to their intended recipients.
Magus
[
]
Considered to have strayed far from the path of contemporary magehood, the Magus has reached the echelons of attaining what can be called the ultimate level of magical power. Delving deeper into study than any typical practitioner of magic, the Magus has rediscovered lost and ancient methodologies to apply that excel anything the current world sees in use; however, whether they know it or not, such methods tapped into discovered at their era were decided to be forgotten: considered with potential of great danger and abuse, these ways were then cast down as taboo, and were abandoned for the sake of such forbidden practices to never ravage the world again. Now in command of these forsaken powers, heaven and earth trembles in the face of such magic that indiscriminately destroys and decimates all who stand in the way of its caster.
Class Strikes
[
]
Below is a list of skill attacks Angela learns across her different classes:
Moves
[
]
As a spell-caster, Angela is capable of learning a plethora of moves, which are all of the offensive variety. Depending on her final class, Angela will also learn an ultimate spell unique to that class as well.
Below is a table of moves Angela learns across her different classes:
Level
Light
Dark
Lv. 1
Holy Bolt
Holy Bolt +2D
Diamond Shards
Diamond Shards +2D
Cyclone
Cyclone +2D
Evil Gate2D
Evil Gate +2D
Fireball2D
Fireball +2D
Ice Smash2D
Ice Smash +2D
((Magician)
Lv. 18
Holy Bolt +3D
Diamond Shards +3D
Cyclone +3D
Evil Gate3D
Evil Gate +3D
Fireball3D
Fireball +3D
Ice Smash3D
Ice Smash +3D
Earthquake
Explode
Spike Freeze
Thunderstorm
Lucent Beam
(Sorceress)
Holy Bolt +3D
Diamond Shards +3D
Cyclone +3D
Evil Gate3D
Evil Gate +3D
Fireball3D
Fireball +3D
Ice Smash3D
Ice Smash +3D
Dark Force
(Mysticist)
Lv. 38
Earthquake +
Explode +
Spike Freeze +
Thunderstorm +
Lucent Beam +
Doppelganger
(Grand Diviner)
Earthquake +
Explode +
Spike Freeze +
Thunderstorm +
Lucent Beam +
Glitter Dust
(Archmage)
Dark Force +

Stun Gust
Cold Blaze
Blaze Wall
Stone Cloud
Annihilate
(Rune Seer)

Earthquake
Explode
Spike Freeze
Thunderstorm
Ancient Curse
(Magus)
Note 1: Angela is able to target one/all enemies with all moves learnt during her Magician class after obtaining the corresponding mana spirit.
Note 2: Angela will learn how to multi-target 'light' upper-level moves (such as Earthquake and Explode) when she changes class into either a Grand Diviner or an Archmage.
Note 3: If Angela changes class to a Rune Seer, her Dark Force spell will be upgraded to target all enemies. The Magus does not learn to multi-target Dark Force.
Note 4: Neither the Rune Seer nor Magus can multi-target the upper-level moves they learn in the four classical elements.
Equipment
[
]
Weapons
[
]
Angela comes to wield wands and staves that are enchanted to help augment and strengthen her magic and mind. As Angela progresses in terms of classes, Sorceress weapons are made in mind to help discipline and draw out its wielder's inner power in balance with its own enchantments, while Mysticists come to bear staves rooted in construction from occult and even forbidden rituals to bestow its user with unparalleled magic power.
| Name | Cost | Location | Class |
| --- | --- | --- | --- |
| Wand | 22 | Starting Weapon | -- |
| Staff | 75 | Astoria, Wendel, Maia | -- |
| Sorcerer Rod | 180 | Dwarf Village, Valsena | -- |
| Twisted Rod | 220 | Beiser, Palo, Jad | -- |
| Pewter Staff | 378 | Ghost Ship, Palo | -- |
| Ruby Cane | 738 | Tomato Town | -- |
| Crystal Staff | 1100 | Alrant, Sultan, Deen | -- |
| Soul Staff | 2400 | Mintos | -- |
| Scepter | 2650 | Mintos | Sorceress |
| Cunning Staff | 2795 | Mintos | Mysticist |
| Ash Cane | 2650 | Diorre | -- |
| Will Staff | 2900 | Diorre | Sorceress |
| Tot's Cane | 3155 | Diorre | Mysticist |
| Rajin's Cane | 3480 | Altena, Deen, Mintos | -- |
| Mythril Rod | 3830 | Altena, Deen, Mintos | Sorceress |
| Skull Rod | 4000 | Altena, Deen, Mintos | Mysticist |
| Memyl Rod | 6950 | Cats | -- |
| Druid Cane | 7015 | Cats | -- |
| Revelation Cane | 7200 | Cats | Mysticist |
| Nebula Staff | 14335 | Cats | -- |
| Yggdrasil Rod | 16400 | Cats | Sorceress |
| Ancient Rod | 17335 | Cats | Mysticist |
| Oak Cane | 22000 | Pedan | -- |
| Eternal Wand | 33470 | Pedan | Sorceress |
| Celnunnos Cane | 31375 | Pedan | Mysticist |
| Ceryeceon | -- | Weapon/Armor Seed | Sorceress/Mysticist |
| Ganvantein | -- | Weapon/Armor Seed | Grand Diviner |
| Spirit Cane | -- | Weapon/Armor Seed | Archmage |
| Rune Staff | -- | Weapon/Armor Seed | Rune Seer |
| Dragon Rod | -- | Weapon/Armor Seed | Magus |
Armor
[
]
| Name | Cost | Location | Class |
| --- | --- | --- | --- |
| Cotton Robe | 16 | Starting Armor | -- |
| Silk Robe | 50 | Wendel, Maia | -- |
| Witch Robe | 95 | Dwarf Village, Valsena | -- |
| Bee Gown | 184 | Beiser, Palo | -- |
| Bat Coat | 230 | Ghost Ship, Palo | -- |
| Tiger Two-Piece | 234 | Tomato Town, Valsena | -- |
| Flower Suit | 600 | Alrant, Sultan, Deen, Mintos, Diorre | -- |
| Lapin Dress | 1000 | Mintos | -- |
| Owl Coat | 1970 | Diorre | -- |
| Zephyr Robe | 2150 | Altena, Deen, Mintos | -- |
| Mananan Robe | 3160 | Cats | -- |
| Dawn Dress | 3830 | Cats | Sorceress |
| Dusk Dress | 3440 | Cats | Mysticist |
| Snowy Robe | 7495 | Pedan | Sorceress |
| Darkness Robe | 7015 | Pedan | Mysticist |
| Dreamdevil Coat | -- | Weapon/Armor Seed | Sorceress/Mysticist |
| Myein Dress | -- | Weapon/Armor Seed | Grand Diviner |
| Radical Coat | -- | Weapon/Armor Seed | Archmage |
| Rune Coat | -- | Weapon/Armor Seed | Rune Seer |
| Ancient Robe | -- | Weapon/Armor Seed | Magus |
Helmets
[
]
| Name | Cost | Location | Class |
| --- | --- | --- | --- |
| Circlet | 42 | Maia | -- |
| Sorcerer Hood | 184 | Jadd | -- |
| Chryscirclet | 820 | Deen | -- |
| Panther Hood | 990 | Diorre | -- |
| Silver Circlet | 2300 | Cats | -- |
| Snowy Veil | 2795 | Cats | -- |
| Misty Veil | 3630 | Pedan | Sorceress/Mysticist |
| Moonstone Tiara | -- | Weapon/Armor Seed | Sorceress/Mysticist |
| Myein Crown | -- | Weapon/Armor Seed | Grand Diviner |
| Eremos Crown | -- | Weapon/Armor Seed | Archmage |
| Rune Veil | -- | Weapon/Armor Seed | Rune Seer |
| Ancient Tiara | -- | Weapon/Armor Seed | Magus |
Accessories
[
]
Other appearances
[
]
Circle of Mana
[
]
Rank
Image
Classes
Quote
SUR
Magician
Delver
Rune Master
Magus
理の女王の娘でありながら、魔法が使えないために女王の愛をうけられず、なやみ、苦しむアンジェラ…。
SUR
Magician
Sorceress
Grand Divina
Archmage
「やだ、ついてこないでよ。あしでまといになるじゃない!」
SUR
Magician
Sorceress
Grand Divina
Archmage
「だいじょうぶ!寒さなんてへっちゃらよ。だって私達には、この熱い心があるんですもの!」
SUR
Magician
Delver
Rune Master
Magus
「フンだ!お説教なら沢山よ。もういい、あんたには頼まないわ!べろべろべーだ!」
SUR
Magician
Delver
Rune Master
Magus
「私は冷たいだけの女じゃないの。一緒に情熱のダンスを踊ってくれるのは誰かしら?」
SUR
Magician
Sorceress
Grand Divina
Archmage
「この格好?……き、気分よ気分。ここは海賊船だし、気分的な問題よ。別に仲間のフリして逃げようなんて思ってないわよ……。」
SUR
Magician
Sorceress
Grand Divina
Archmage
「ただやみくもに突っ込んだって軍には勝てないでしょう?余計な戦いは避けて、リチアの救出を最優先にすること。」
SUR
Magician
Sorceress
Grand Divina
Archmage
「ねぇ、プリム?あんたも変な趣味してるよね?こんなののどこがいいの?」
SSUR
Magician
Sorceress
Grand Divina
Archmage
「どう、見直した?私だって本気を出せば、これぐらい簡単にできるのよ。一緒に冒険できることに感謝しなさいよね!」
SSUR
Magician
Delver
Rune Master
Magus
「フフフ、いいの。今までは今までよ。私は過去を振り返らない女なの。でも、今日からは違う!真のヒロインはただ一人。このアンジェラなの!」
SSUR
Magician
Sorceress
Grand Divina
Archmage
「クリスマスには、こうやって町や森を飾りつけしたり、みんなでご馳走を食べたり、プレゼントを交換したりするみたいよ。」
SSUR
Magician
Sorceress
Grand Divina
Archmage
「うわー、海って最高っ!とことん満喫しちゃうんだから!」
SSUR
Magician
Delver
Rune Master
Magus
「月夜の夜は不思議と魔力が溢れるんだよね。ね、新しい魔法の実験台になってくんない?お菓子をくれたら見逃してあげてもいいけど。」
SSUR
Magician
Delver
Rune Master
Magus
「違う…違うのよ!私、知ってるの……竜帝の支配は、これからが始まりなのよ!!」
SSUR
Magician
Sorceress
Grand Divina
Archmage
「そっかな……。なんか複雑な気分だけど、それだと、ちょっとうれしいかも……。」
SSUR
Magician
Delver
Rune Master
Magus
「やっぱり、あなた達が勝ち残ってきたわね。まぁ、だれが来ようと、私とヴァルダに勝てるわけないけどね。」
SSUR
Magician
Delver
Rune Master
Magus
「まったく、女の子二人を狙うなんて卑怯もいいところね!」
LGR
Magician
Delver
Rune Master
Magus
「着物っていうんだっけ?この異世界の衣装、私は好きだな。」
LGR
Magician
Sorceress
Grand Divina
Archmage
「究極のチョコレートよ。ありがたく食べなさいよね。」
LGR
Magician
Sorceress
Grand Divina
Archmage
「魔法より、もっとステキなもの見つけちゃったもんネ!それは…」
LGR
Magician
Delver
Rune Master
Magus
「…今までの敵とは格が違うわね。みんな、気を引き締めていくわよっ!」
LGR
Magician
Delver
Rune Master
Magus
「違う…違うのよ!私、知ってるの……竜帝の支配は、これからが始まりなのよ!!」
LGR
Magician
Delver
Rune Master
Magus
「私だって、本当は怖かったわよ!でも、あの時は無我夢中だったわ。「何かしなくちゃ!」って…」
LGR
Magician
Sorceress
Grand Divina
Archmage
「幸せにしてくれなきゃ、ゆるさないからね!」
LGR
Magician
Sorceress
Grand Divina
Archmage
「でも、見直したわ。あんた、本当に強かったのね。」
LGR
Magician
Sorceress
Grand Divina
Archmage
「素敵な異国の衣装ね!どう?私、似合ってるかな?」
LGR
Magician
Sorceress
Grand Divina
Archmage
「元凶のあんたには、たっぷりお礼をしないと。」
LGR
Magician
Delver
Rune Master
Magus
「魔法を使いこなすことができなかった私が、今は大魔法だって使える!これって大器晩成ってやつよね!」
LGR
Magician
Delver
Rune Master
Magus
「……努力したのよ。あれからたくさん。」
LGR
Magician
Delver
Rune Master
Magus
「ううっ、このドレスすごく寒いよ…。よし、魔法であったかくしよう。えいっ、ファイアーボール!」
SLGR
Magician
Sorceress
Grand Divina
Archmage
「皆が出来るはずの事が出来ないってすごく辛いんだから…!」
SLGR
Magician
Delver
Rune Master
Magus
「勇者くん、こっちこっち!私は上だよ。」
SLGR
Magician
Sorceress
Grand Divina
Archmage
「プリム、この勝負、私の勝ちね。だって、みんなの視線が私にくぎ付けだもん!」
SLGR
Magician
Delver
Rune Master
Magus
「エリニース!もう許さないんだから!」
SLGR
Magician
Delver
Rune Master
Magus
「私たちの中で、このドレス姿が一番似合ってるのは誰かしら?」
SLGR
Magician
Sorceress
Grand Divina
Archmage
「ふわぁぁ…、無防備だからって、ヘンなことしたら承知しないんだからね!」
SLGR
Magician
Sorceress
Grand Divina
Archmage
「ねえ、ウェンディ。どうしてデュランをつれてこなかったの?」
Final Fantasy Brave Exvius

[

]
Nomenclature
[
]
Names in Other Regions
Language
Name
Meaning
Japanese
アンジェラ (Anjera)
Angela
Chinese
French
Angela
German
Angela
Korean
Spanish
Ángela
Gallery
[
]