Alma is a character in Heroes of Mana and a non-player character in Trials of Mana. An Amazon of Laurent, Alma feels no need to express her feelings; though under her tough exterior is a deep and thoughtful soul. She has deep feelings for Joster but set those feelings aside when she found out that her best friend, Minerva, had fallen in love with him. She helps Roget, hoping to reclaim her kingdom. By the time of the events in Trials of Mana, she has become a loyal servant of the Laurent royal family.
Biography
[
]
Heroes of Mana

[

]
Alma joins Roget's team after an alliance of Pedda and Nevarl conquers Laurent.
Trials of Mana

[

]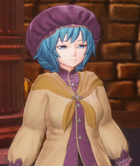 Alma would eventually retire from the Amazons, after her friend Minerva died during the birth of her second child. From then on she was the nanny to Riesz and Elliot. When Nevarl seizes Citadel Laurent, she is among those who survived and started a resistance movement in the outskirts of Heavensway. When the Amazons retake Laurent thanks to the heroes, she stays there for the rest of the game and welcomes the princess and prince home at the end.
As the chamber maid of Citadel Laurent, Alma was privileged to have heard of a relic known as the Kind Sphere, used as part of a rite afforded Laurentian monarchs. She tells Riesz where the sphere may be held as part of her quest to unseal the legendary Class 4.
Other appearances
[
]
Circle of Mana
[
]
Alma appeared on several sets of cards.
Rank
Image
Classes
Quote
SUR
Amazon
Valkyrie
Vanadis
Star Lancer
「確かにあんたはミネルバ様にそっくりだ。言い出したら聞かないところなんて瓜二つだよ。でもね、無茶だけはしちゃダメだよ。」
SSUR
風の地の乳母
姉弟を見守る者
風の王女の母代わり
在りし日の戦乙女
「そんな昔のこと、畏れ多いことです。今は一人の乳母に過ぎませぬ…」
LGR
風の地の乳母
姉弟を見守る者
風の王女の母代わり
在りし日の戦乙女
「決まってるさね。お嬢様を助けるためなら幾らでも力を貸すよ!」
Etymology
[
]
Alma is a feminine given name of Latin origin, meaning "soul".