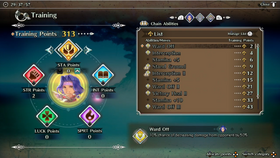 Abilities are part of an important game mechanic exclusive to the 2020 remake of Trials of Mana.
Mechanics
[
]
Whenever a player character levels up, training points or TP are allocated to it and can be used to gain moves or abilities that grant various upgrades and perks upon being equipped. Abilities comes in 5 different stat attributes :
Abilities' function depend on which stat they are assigned. For example, strength abilities typically enhance a player character's attack statistic and melee attacks in general.
Abilities also come in two different categories : individual and chain abilities. Individual ones can only be equipped by the same character who has learned it in the first place. Chain abilities aren't restricted by this rule and therefore can be equipped by everyone in the party. they can be distinguished from normal abilities by their little icon

on their lower left corner. Contrary to individual ones, chain abilities can also be learned outside the training menu section by non-player characters or even by completing the game. Note that even when chained, only one player character can equip an ability.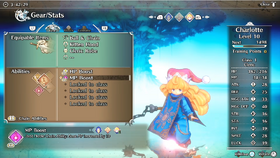 The number of abilities one player character can equip is tied to its class tier :
2 for default classes or class 1
4 for class 2
6 for class 3
8 for class 4
Most abilities effects can be stacked on one another unless specified by saying they cannot or has a maximum limit. For example, Winning Heal and Alleviate both recover a certain percentage (7% and 3% respectively) of HP for all allies after winning a battle for a grand total of 10% if both equipped.
Alphabetical list of abilities
[
]
This is an exhaustive list of the abilities in the 2020 remake of Trials of Mana.
Chain Abilities Outside Training
[
]
Notes : chain abilities' obtainability vary upon their type.
Main Story : the ability is automatically obtainable while playing the game from chapter I through VI.
Optional : the ability is obtainable by talking to a certain NPC from chapter I through IV.
Chapter VII : the ability is only obtainable by completing Anise's missions during chapter VII.
Class 4 Item : the ability is specific to a character and can only be obtainable by acquiring a class 4 item during chapter VII.
New Game + : the ability is only obtainable after beating with a certain character in the party , then by using the same file for New Game Plus. Each concerned ability is tied with a specific character, save from Love of Mana.
Abilties followed with an asterisk (*) after Main Story or Optional are character-specific, meaning that you have to have a certain character in your party in order to obtain it.
| | | |
| --- | --- | --- |
| Name | Type | Effect |
| Accumulate | Class 4 Item | Adds 10% of CS gauge for every 5 sec. while using a chage attack |
| Alchemic Acumen | Class 4 Item | Recover 5 MP for all allies every 5 sec. in battle |
| Alleviate | Optional* | Recover 3% of HP/MP for all allies after winning a battle |
| Banish | Optional | Status effect time shortened by 50% |
| Beastman Pride | Class 4 Item | 20% chance of defense decrease when using power attack |
| Beast Roar | Main Story* | Damage to boss monsters increased by 10% |
| Blacksmith | Optional | Gear stats increased by 5% in battle |
| Cactus Soul | Optional | Add 200% to all allies' CS when battle starts |
| Chaos protection | Chapter VII | Add 100% to all allies' CS when battle starts |
| Converter | Optional | 30% of MP needed for magic substituted by HP when using magic |
| Dark Power | Chapter VII | Recover 100% of all allies' HP when battle starts |
| Eagle Talons | Class 4 Item | Recover 1% of MP when normal attack hits |
| Faith Bond | New Game + | Base HP increased by 200 |
| Fellow Bond | New Game + | Base Luck increased by 50 |
| HP Boost | Main Story | Base HP increased by 30 |
| HP Boost II | Main Story | Base HP increased by 60 |
| Ignition | Main Story* | Recover 10 MP for every 5 sec. in battle |
| Instinct Bond | New Game + | Base attack increased by 50 |
| Kindness | Optional* | Stat decrease effect time shortened by 50% |
| Less Encounters | Optional* | Harder for enemies to reapear |
| Life Wisdom | Optional* | Healing item's effectiveness increased by 10% in battle |
| Love of Mana | New Game + | EXP increased by 300% for all allies |
| Loving Miracle | Class 4 Item | Decreae HP needed for moves by 40% in battle |
| Lucky Find II | Main Story* | Item drop rate increased by 10% |
| Lupine Soul | Optional* | Recovers 30% HP when healing an ally with 30% HP or below in battle |
| Magic Switch | Optional | Increase magic attack by 5% in battle |
| Mana Blessing | Main Story | Recover 2% of MP for all allies every 10 sec. in battle |
| Mana Miracle | Chapter VII | Keep the item when using an item in battle |
| More Encounters | Optional | Easier for enemies to reappear |
| MP Boost | Optional | Base MP increased by 10 |
| MP Boost II | Optional* | Base MP increased by 20 |
| Narrow Escape | Optional | 50% chance of cancelling stat decrease |
| Obsidian Power | Optional | 0 MP needed for move in battle |
| Parental Prayer | Class 4 Item | Recover 5% of HP/MP for all allies after winning a battle |
| Passion Bond | New Game + | Base magic attack increased by 50 |
| Personal Style | Optional* | Attack increases when using class strike |
| Pride | Optional* | 5% of CS gauge after winning a battle |
| Sincere Bond | New Game + | Base magic defense increased by 50 |
| Soul Swallow | Main Story* | Adds a random stat increase when enemy defeated |
| Spell Armor | Main Story* | Defense increased by 60% when casting |
| Spell Shield | Optional* | Magic defense increased by 40% when casting |
| Spirit Bond | New Game + | Base defense increased by 50 |
| Stat Down Resistance | Optional* | 20% chance of cancelling all allies' stat decrease |
| True Protection | Class 4 Item | Increases magic attack and magic defense when battle starts |
| Unleashed | Main Game* | Status effect or stat decrease canceled when using class strike |
| Will to Fight | Optional | Power attack damage increased by 5% |